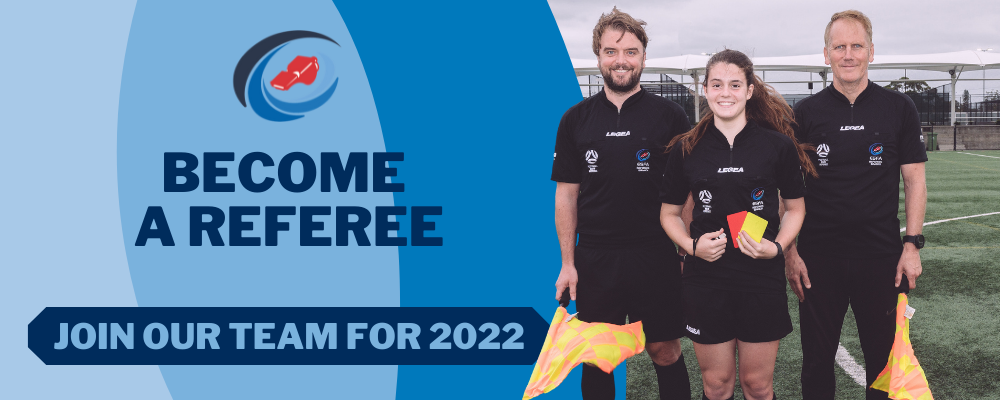 The ESFA Referees Branch had its inaugural season in 2009 as an independent sub-committee of ESFA and has now grown to over 165 members.  Match coverage has been an average of 86% during the 2020 season.
Information about career pathways and professional development of match officials in Australia can be found in the FFA Australian Officiating Development Schedule on footballaustralia.com.au.
If you have refereed previously in Australia or overseas you can quickly become an active official locally.  We do need a letter of clearance from your previous referee organisation stating that your qualification remains valid, the level of competitions you have officiated in and that you are not currently serving any football-related suspensions.
Please contact ESFA for further information about refereeing in the Eastern Suburbs referees@esfa.com.au  
Referee Courses
The Branch is continually looking to expand its membership base so anyone who wishes to become a referee in the Eastern Suburbs please refer to the Become a referee page as the process has changed for 2022.
Once you have completed your Level 4 Referee qualification, we recommend that you undertake the Level 3 Referee qualification after you have gained a season of experience on the field.
If you are a player or coach, you can still be involved with your team, as well as refereeing on weekends.
Seniors and juniors (turning 14 in calendar year), are all welcome.  Senior male and female referees in particular, are highly sought after given almost guaranteed appointments.
Please contact ESFA for further information about refereeing in the Eastern Suburbs referees@esfa.com.au
If you wish to contact members of our Referees Branch Committee, please do so on the following emails:
ESFA Referees Branch Committee
Branch Chair: Denys Antonov: refereechair@esfa.com.au
Technical Branch Coach: Mark Dungey: refereebc@esfa.com.au
Youth Development: Felix Tan: refereecommittee@esfa.com.au