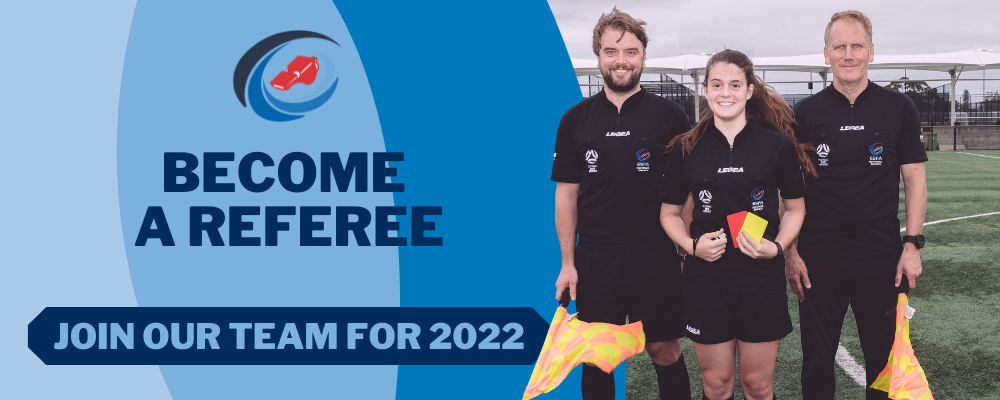 How would you like the best seat in the house?
A great way to keep fit and earn tax free income.
Love the game and no longer play?
Want to get more involved in football?
Become part of the ongoing solution!
ESFA is always looking for more referees to cover our ever expanding competitions!
Step 1: Get in Touch
Click HERE to submit an Expression of Interest form for 2022. This will help us get in touch and assist you while you complete your referee registration.
Step 2: Complete the FA Online Laws of The Game Course
This is a free online training module that provides a basic introduction to the Laws of the Game and its interpretations. This is a prerequisite to completing your Level 4 Referee Course.
Complete this course online HERE on FA's Learning Module.
Step 3: Register for and attend a Level 4 Referee Course
The Level 4 Referee Course provides participants with education and training to become a referee. To complete your Level 4 Referee qualification, you must attend both a theory and a practical session. The Theory can be completed online and in your own time! Register HERE to start the Theory Course.
The Practical can be completed by attending our weekly referee sessions. We will get in contact with you to organise a session.
Step 4:  Register with Eastern Suburbs Football Association Referee Branch
Registrations to refere with ESFARB on Play Football are now open and can be completed HERE. This registration includes your referee gear (uniform, flags, cards, notebook and whistle).
A paid Working With Children Check (WWCC) is required by Football NSW for all referees over the age of 18. The cost to obtain a WWCC is $80.00 and can be applied for online HERE.
Step 5: Grab your gear and get on the field
We will contact you further for details to retrieve your gear and information regarding your refereeing allocations for the 2022 season.
Please contact referees@esfa.com.au if you cannot attend the dates mentioned above or require additional information.