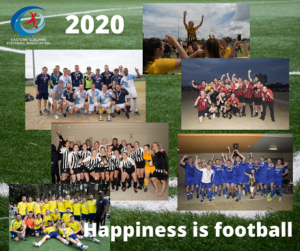 Late May/Early June 2020 Post Quarantine) Let's run the season we said! Let's have 1 v 2 Grand Finals for our Senior Competition we then said! Let's have them at 4 different venues we further said! Let's celebrate football and all it has given to our community in a year like no other, everyone said! ...
Read more →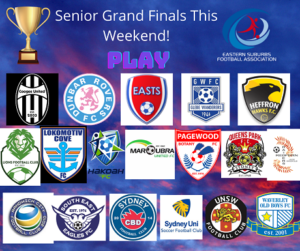 As the sun sets on our Senior Competitions, after a weekend of upsets, surprises and deciders on the last fixture of the season, we are happy to announce the Premiers and Grand Final opponents for Senior Competition 2020 (in divisional order to assist with search of venue and time). Congratulations to all involved this season. ...
Read more →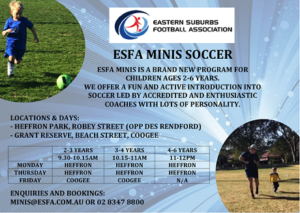 Term 4 ESFA Minis soccer (football) begins again this week! ESFA Minis is a brand new program for children ages 2-6 years. We offer a fun and active introduction into soccer led by accredited and enthusiastic coaches with lots of personality. To enrol for the 10 week term or for a free trial, please complete ...
Read more →
Play football your way
ESFA offer football from U6 to O45. There is an ESFA Club to suit every budding or expert player both young and old. Contact info@esfa.com.au for further information.
Help shape football
Get involved with ESFA through coaching and refereeing. Contact our Referees Coordinator (richard@esfa.com.au) to learn about any upcoming referee courses and/or contact our Technical Director (td@esfa.com.au) about any coaching related inquiry.