Women in football are shining brighter than ever before. Our women and girls' participation base continues to increase and provide one of the greatest growth opportunities for Football.
Women make up 22% of the Australia's participation base with players born in over 150 different nations and set to rise with Football Australia's Gender Equality Action Plan which aims to have 50% gender participation split by 2027. Read more about the FA's plan HERE.

ESFA are continuously working hard to increase and maintain high levels of participation in the women's and girls' leagues. This of course would not be possible without the support and drive of our clubs. Without our community clubs we would not have got as far as we have. The determination of Caroline Oakes-Ash (Competitions Manager), as well as our clubs, to provide an O30's division for several years was finally achieved in 2021. The Louise Mazzaroli cup has hugely aided in generating interest in this division for many years, which we are confident will continue to grow.
We thank all clubs for frequently advertising and pushing towards achieving 5 competitive divisions plus the O30s. As a result, we were able to see a 3% increase participation in our women's competitions between 2020 and 2021, now we need to keep working to aid this momentum.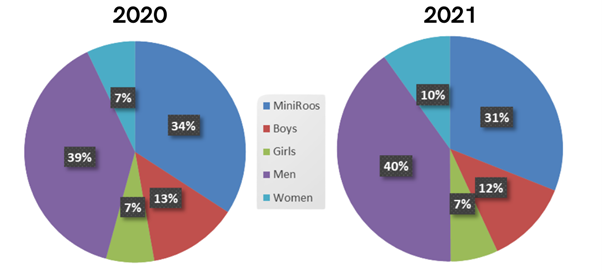 Here's what our Competitions Manager Caroline had to say: "As a Community Bid Champion for FIFA woman's World Cup, encouraging further women to enter the game or re-enter the game to show Australia and the world that women's football is the growth area, is something I with the massive backing of volunteers on club committees, am determined to achieve. From our MiniRoos up."
The participation of female players from MiniRoos to Matildas is changing the complexion of the sport for the better in our country. We look forward to the day when every club has teams for females in every age group, from primary school age to seniors. To achieve that, we want to help our clubs and our sport cater for female participants. That's everything from recruitment, coaching, health and welfare and facilities.
The FFA provide some incredibly educational and helpful tools to aid clubs with promoting female participation. CLICK HERE to read about how to attract, retain and support female players at your club, including insights about:

– Why female players play
– What your club should look like for female players
– Why should females play football at your club
– Barriers to football for females
– Recruitment Strategies

Female Coaches Mentoring Group
2021 saw an exciting new initiative from ESFA from a Coach Development perspective. ESFA, together with some passionate volunteers and experienced Female Coaches launched the Female Coach Mentorship Group.
For more information about our female mentorship group, click HERE.